WaterHog Drainable Border Mat
WaterHog Drainable Border mats are durable, stain-resistant mats with a unique bi-level design that traps dirt and moisture, keeping your floors clean, dry, and safe. They feature the standard WaterHog squares pattern without the water dam border so water can drain away freely.
Clean & Dry - Bi-level surface effectively scrapes dirt and moisture from shoes, trapping it beneath shoe level to prevent tracking
Durable - Reinforced rubber nubs prevent pile from crushing and extend the performance life of the mat
Fade & Stain-Resistant - Solution-dyed PET fabric (24 ounces/yard2) is resistant to staining, dries quickly, and will not fade or rot
Eco-Friendly - PET surface is made from at least 97% recycled plastic reclaimed from plastic; SBR rubber backing contains 20% post-consumer recycled rubber from car tires
Available in 12 colors
Available with smooth or cleated 78-mil SBR rubber backing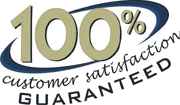 18" x 27" (17.5" x 26")
2' x 3' (20" x 32")
3' x 5' (32" x 55.5")
3' x 10' (34" x 117")
4' x 6' (43" x 68")
4' x 8' (44" x 92")
6' x 8' (70" x 95.5")

Solid red is available in 3' and 4' widths only (no 6' widths).
Please note, mat sizes are approximate as rubber shrinks and expands in conjunction with temperature and time. Tolerable manufacturing size variance is 3-5%.
SURFACE
Material: Solution-dyed PET (polyethylene terephthalate); may contain up to 3% latex.
Weight: 24 ounces/yard2
Construction: Needle-punched
Design: Squares
BACKING OPTIONS
Material: SBR rubber - smooth or universal cleated
Thickness: 78-mil
STANDARDS & TESTING
Passes CPSC-FF1-70 for the surface flammability of carpets
Waterhog Drainable Border mats can be cleaned using the following instructions:
Vacuum regularly (daily in high-traffic commercial areas; weekly in lower-traffic areas)
Extract or hose off as needed to remove heavy soil/debris
Hang mat to dry
Always make sure the mat is dry before placing it back in service.