World of WaterHog®
About WaterHog
WaterHog was introduced commercially in 1986 and quickly became America's favorite mat. It offers industrial-strength performance with a variety of attractive patterns to suite any taste. The signature bi-level surface features stain-resistant fabric over durable rubber nubs, recessed channels, and a water dam border. The nubs effectively scrape dirt and wipe moisture from shoes, trapping it in the channels below shoe level to prevent tracking.

The eco-friendly PET fabric dissipates moisture quickly for very fast drying time, and the durable rubber backing ensures it lays flat and doesn't "creep" across your floor. PET fabric is resistant to staining and fading, so WaterHog mats can be used both indoors and outside.
See how the bi-level design of WaterHog mats minimizes tracking:
Simplifying the WaterHog Mat Selection Process
The WaterHog product line includes mats in a wide array of patterns, colors, and sizes. With so many options and a unique nomenclature, selecting a WaterHog mat can seem challenging at first, but these five steps are designed to simplify it.
Step 1: Pick your fabric weight
WaterHog mats are primarily available in two fabric weights: 24-ounce PET (polyethylene terephthalate) for the original WaterHog line, and 30-ounce PET for the WaterHog Max line. PET is an eco-friendly polyester made from recycled plastic drink bottles. The fabric on both WaterHog and WaterHog Max products is made with a PET that features 90% post-consumer recycled material.
Step 2: Pick your pattern and color
The original WaterHog (24-ounce) line comes in two designs with 12 color options:
The WaterHog Max (30-ounce) line comes in four designs with 7 color options:
Step 3: Pick your border
You'll often see WaterHog mats include the words Classic or Fashion in the title. These two words indicate the border of the mat. Most mats in the WaterHog and WaterHog Max lines include the option to choose either a classic rubber border or a fashion fabric border.
Step 4: Pick your backing
All WaterHog mats are backed with rubber. The standard backing is a 78-mil SBR (styrene-butadiene rubber) with either a smooth surface for placement on smooth floors (like marble, wood, or tile) or with a universal cleated surface designed to perform on both carpeted and smooth floors.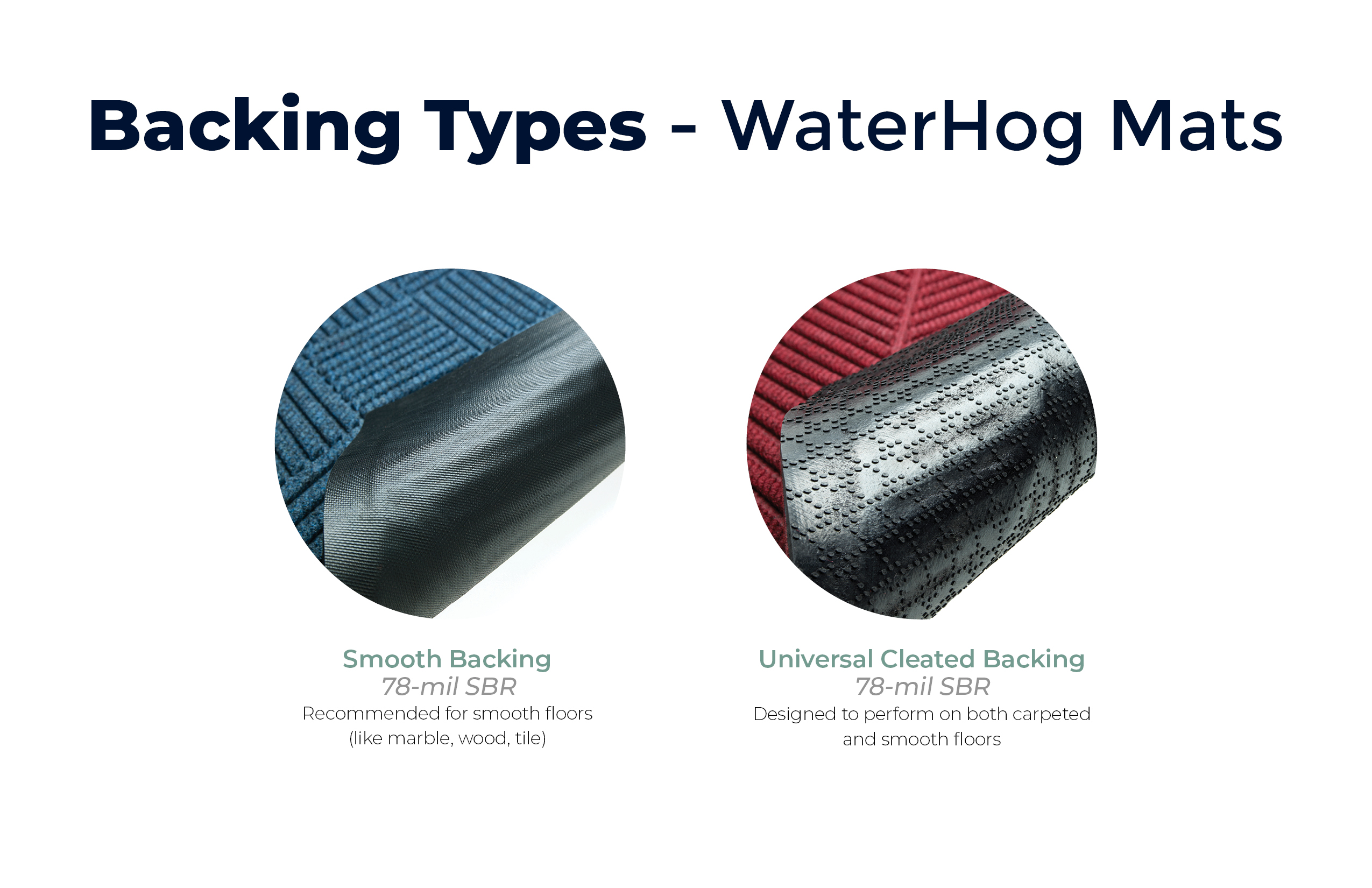 Step 5: Add some optional grandeur
If you're interested in adding a little grandeur to your entrance matting, you may want to consider a WaterHog Max Grand mat. The luxurious rounded mats can be placed at the end of WaterHog Max Diamond mats.
The WaterHog Decision Tree provides a visual map of the first four steps listed above.
WaterHog Tiles & Roll Goods
If you're in need of tiles or roll goods for a large or custom installation, there are several WaterHog options:
WaterHog Max Tiles

featuring 30-ounce PET fabric over 100-mil or 200-mil universal cleated SBR rubber with your choice of 7 colors and three designs – diamond, diagonal, or geometric.

WaterHog Modular Tiles

featuring 24-ounce polypropylene fabric over 200-mil universal cleated SBR rubber interlocking tiles with a square pattern in your choice of 4 colors

WaterHog Max Roll Goods

featuring 30-ounce PET fabric over 78-mil smooth SBR rubber with an attractive herringbone pattern in your choice of 7 colors. Roll Goods are available in 6' x 67' rolls or custom sizes up to 50' and are designed to be installed like carpet or loose-laid like a mat. You can have your logo or design inlaid into these mats. See

WaterHog Max Roll Goods Inlay

.
Other WaterHog Products
If you're looking for branding or messaging opportunities, WaterHog Impressions HD mats feature your high-definition custom design printed on 30-ounce PET with a 65-mil nitrile rubber back making them suitable for commercial laundering. If you prefer an inlaid logo versus printed, WaterHog Inlay (24-ounce polypropylene) mats are available in the square pattern.
Alternative pattern options include a parquet pattern available on WaterHog Masterpiece Select (28-ounce polypropylene), and a Berber diamond pattern available on WaterHog Diamondcord (26-ounce polypropylene).
WaterHog Forklift mats are specially designed to keep warehouses and distribution floors clean and dry. They can withstand up to 14,000 pounds and prevent forklifts from bringing moisture and debris inside and tracking it over the floors.